I hope the Race gods are listening
THE ERIN LAHR STORY PART 1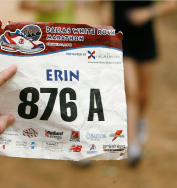 Erin Ezell Krielow Lahr.
When you ask people if they know who she is, most say "No."
When you add: "the woman who died three miles from the finish line at the 2008 White Rock Marathon" — then most people make a connection and a conversation begins.
The 29-year-old Austin woman's death was the second in the 39-year running of the marathon. Her death was a shock not only to her family and friends, but to her co-workers and marathoners and triathletes who she trained with in Austin, and to the running community in general. They all asked how a vibrant and healthy young woman could collapse unexpectedly. Even after a year, her official cause of death, cardiac arrhythmia of unknown origin, continues to prompt questions.
"If there was anyone who was a picture of health, it was Erin," her husband, Jeff would say many months later. "She ate right. She exercised. This was not supposed to happen to her."
But it was just past mile marker 23 on Dec. 14, 2008, at the crossroad of Washington and Swiss avenues, where, not unlike a marathon, a reflection of Erin's life as it passed by would reveal the energetic young woman's euphoria, heartache, short-term goals accomplished, [...]