I hope the Race gods are listening
Erin Ezell Krielow Lahr
• THE ERIN LAHR STORY PART 3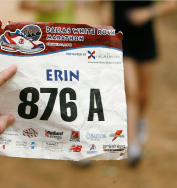 Momma's girl
In Lafayette one recent fall afternoon, Karen Krielow talked about her daughter. Her townhome is, in her words, an "Erin museum." Here she has many of Erin's diplomas, awards and clothes, including her First Holy Communion dress and her wedding dress. Mostly, she has photos. Lots of them.
With photos strewn on a kitchen table and others about in the living room, she looked through a green purse through some of her daughter's things.
She had turned on a CD that includes some inspirational music that was given to her by Katie Marx. The CD, perhaps from being played too long, skips in many places, particularly on a song called, "Mary," by Patty Griffin, whose theme is about dealing with the loss of loved ones.
The pain of losing her daughter is still raw; she has sought counseling services and she leans on her Catholic faith as much as she can.
"Here is her lipstick," she said, pulling it out from the purse. "Here is her toothbrush and toothpaste. Here's her iPod. I think she had Britney Spears and stuff like that and some hip-hop music for her workouts.
"And here is her brush and her hair," she said, unsuccessful in holding back her sobs before closing the purse.
She composed herself and talked about what keeps her going now. She's returned to the choir at St. Pius X. She is on a leave of absence from the local school district. She babysits her grandson every once in a while.
She and Mary Edlund communicate regularly, by phone or e-mail. They both say that it seems they have been friends forever. The significance of the Catholic faith of the people around her daughter at the time of her death is not lost.
"Erin's final moments were in the arms of this wonderful lady that everybody got to meet at the funeral," Karen Krielow said about Mary Edlund. "I am so glad that the rest of the people in pain at the funeral could feel that same relief that Erin was OK at the end; that even though her mother wasn't there that a mother was there, a mother named Mary, to make it even better.
Without Erin
In Austin, Jeff Lahr has moved to a single apartment. He has mementos of his departed wife. He runs regularly, many times tracing the same route along Lady Bird Lake Trail, Barton Skyway Spyglass and around the hills near Rollingwood, off of MOPAC in southwest Austin. He said he was never angry, but that he has sought counseling, and is trying to redefine who he is without Erin.
Through the generosity of friends and former co-workers at PBS&J Engineers in Austin, a scholarship fund in Erin's name has been established at LSU.
He, too, is comforted about Erin's last moments.
"I'm not Catholic, but I'm spiritual," he said. "I know that Erin's faith was so important to her. Whenever she missed Sunday Mass for one reason or another she said she felt bad. During Lent, I would find all of these little prayer cards in her car, so I know that her faith was important to her.
He said he has never been angry.
"I know that God didn't just say one day, 'OK, today, I'm going to off Erin.' I think what happened to Erin was a tragedy, but I do see that there was so much grace with her death.
"I don't consider it a coincidence of the people who were there," he said. "If I had to choose a way for Erin to pass it would have been like that … in the arms of strangers who tended to her. Through that we have all been given a chance to have a glimpse into God's grace for Erin."
Katie Marx said she was placed with Katie and Jeff so that he wouldn't have to be alone to face the tragedy alone.
"This doesn't happen for everybody, but God enabled me to be there for Jeff. There was a paramedic running behind her and could immediately seek attention to her, and then there's Mary, very faithful and able to pray over Erin's soul at the time of her death.
"Some people ask why. I don't ask why. I feel God was very generous with Erin's death. I feel she was able to be around people who took care of her, that she didn't have to die alone. I was so grateful for Ms. Mary and the other people to love her and comfort her at the time of her death and that was a wonderful gift from God. I truly take comfort in that."
Olivia Zokai, who works with many brain injury patients, believes she was placed at Washington and Swiss not necessarily to help Erin, but to help all of Erin's friends — her own friends — who have called her and talked to her about Erin's final moments.
"Here I am in this random road in Dallas, Texas, at a time when I wasn't supposed to be there, and I tried every way and every reason to be out of there and God ended up putting me in that place," she said. "It is a confirmation, a bold confirmation that the Lord is going to use us in so many ways and that when he wants something to happen that it will happen."
She spearheaded an effort for a memorial plaque in Erin's honor at the site. About 60 people, including Erin's husband, her mother, father and brother, and other family members and friends, attended the dedication ceremony on Oct. 16. Karen Krielow talked about how special her daughter was. Olivia talked about how Erin impacted many on that day, and beyond. Msgr. Henry Petter, pastor of St. Elizabeth Ann Seton Parish in Plano, and Msgr. Milam Joseph, the diocese's Episcopal Vicar, both runners, assisted in the ceremony with Msgr. Petter playing "Amazing Grace" on the harmonica and Msgr. Joseph calling Erin the Dallas marathon's "first saint."
After the ceremony, Jeff went up to Olivia and expressed his thanks for the plaque and the ceremony, telling her she had "hit it out of the park." They will be among 20 people running in relay teams in Erin's name for the 2009 Dallas White Rock Marathon.
Also in the crowd at the dedication that October afternoon was Marty Leos, who stood by himself, armed crossed over his blue Dallas Fire-Rescue uniform, away from his wife and others, occasionally wiping away tears.
Earlier this year, Marty took another assignment: Fire Station 5 in the Pleasant Grove area of southeast Dallas.
"Before Erin, I never got emotional about anyone who had died that I was caring for," he said. "She changed me. I struggle with my faith; my mother calls me a cardboard Catholic, but Erin helped me in my faith and showed me that every person you come into contact with is a human being, that they have feelings; they're someone's wife, someone's husband, father, brother, sister, son.
"I know I was placed there for a reason. I could have continued running, but if there was a chance for her to have lived, I was put there to maybe give her that chance."
He has been training for this year's marathon. He has spoken occasionally to Mary Edlund and to Karen Krielow and feels privileged to have been among those people trying to help Erin. When he runs, he feels her with him.
"I thought about it too late, but when I was at around mile 25, I said to myself that I should have taken her chip from her shoe so she could have crossed the finish line, but that's OK."
He said a few months ago, in his spiritual journey, he looked up the significance of Psalms 26:2, in correlation to the distance of a marathon. He was astounded by what it said because he felt it spoke to runners: "Test me, O LORD, and try me, examine my heart and my mind."
And, he said, because none of what he experienced on that day seemed like a coincidence, then for a faithful Erin, ending at mile 23, in correlation with Psalm 23, also may have been fitting for her.
"The LORD is my shepherd;
there is nothing I lack.
In green pastures you let me graze; to safe waters you lead me; you restore my strength.
You guide me along the right path for the sake of your name.
Even when I walk through a dark valley,
I fear no harm for you are at my side; your rod and staff give me courage.
You set a table before me as my enemies watch;
You anoint my head with oil;
my cup overflows.
Only goodness and love will pursue me
all the days of my life; I will dwell in the house of the LORD for years to come."
David Sedeño is the executive editor of The Texas Catholic, El Católico de Texas and www.texascatholic.com. He can be reached at 214-379-2885 or at dsedeno (at) cathdal.org.
« Back to Part 2 • Home