I hope the Race gods are listening
Erin Ezell Krielow Lahr
• THE ERIN LAHR STORY PART 1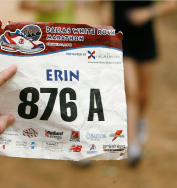 Erin Ezell Krielow Lahr.
When you ask people if they know who she is, most say "No."
When you add: "the woman who died three miles from the finish line at the 2008 White Rock Marathon" — then most people make a connection and a conversation begins.
The 29-year-old Austin woman's death was the second in the 39-year running of the marathon. Her death was a shock not only to her family and friends, but to her co-workers and marathoners and triathletes who she trained with in Austin, and to the running community in general. They all asked how a vibrant and healthy young woman could collapse unexpectedly. Even after a year, her official cause of death, cardiac arrhythmia of unknown origin, continues to prompt questions.
"If there was anyone who was a picture of health, it was Erin," her husband, Jeff would say many months later. "She ate right. She exercised. This was not supposed to happen to her."
But it was just past mile marker 23 on Dec. 14, 2008, at the crossroad of Washington and Swiss avenues, where, not unlike a marathon, a reflection of Erin's life as it passed by would reveal the energetic young woman's euphoria, heartache, short-term goals accomplished, uphill battles, twists and turns, downhill stretches, hope to face the next challenge, and the smiling faces of family, friends and strangers offering encouragement and prayers along the way. And, in her final moments, comfort.
It was at that crossroad, in the shadow of downtown Dallas, where several lives intersected; a paramedic, a physical therapist and a mother who happened to be an experienced marathoner. They were all Catholic. They began their day with goals of their own. When the time came, instincts took over and two put their skills into action; another put her motherly instincts and her Catholic faith into action.
When an ambulance rushed Erin to Baylor Medical Center, most of those people who had tried to help Erin went about their way. The enormity of what they had experienced would not sink in until several hours after that tragic moment. Their lives, they would say later, would never be the same. Erin's loved ones, grieving as they were, would be grateful that she was in the hands of loving Christians, several Catholics, to be specific, in her final moments.
For it was at that crossroad that in an effort to save a beloved daughter and sister, a devoted wife and engineer, an athlete with a keen mind and a driven spirit that the gifts of love, faith, hope and charity manifested themselves. Friendships were forged in a moment between life and death. God's grace and providence, not coincidences, most everyone involved would say later, unfolded for all of them because of a young woman by the name of Erin Ezell Krielow Lahr.
Sunday, Dec. 14, 2008
Dallas, Texas
It was still dark outside when Erin Lahr awoke in the double room that she and her husband, Jeff, and one of their best friends, Katie Marx, were sharing at the Hyatt Regency Hotel.
They had come here for Erin, who would be trying to qualify for the Boston Marathon. She had already logged in long-distance runs and a triathlon, but her time at the Austin Marathon earlier in the year wasn't good enough to qualify her for Boston. So, she had continued training. She and her coach in Austin believed that through hard work Erin could run the White Rock Marathon, which lacked the inclines of the Texas Hill Country, in 3:40, good enough to qualify for Boston.
As the White Rock race day neared, Erin began to worry, not about the cold or the rain, but about the wind. Her goal was reachable, she and her coach agreed, if the wind cooperated. Erin had mapped the race on Google, checked weather conditions for Sunday, and knew at what points she would need energy supplements. She even joked about the predicted wind gusts.
"I've done a couple of training runs in the wind too," she wrote on her journal blog on Dec. 11, three days before the race, "so I know what I'm up against with 20 mile an hour winds…I just hope they don't last for the entire race. Oh, and it would be nice if they were at my back for part of the race too. I hope the Race gods are listening."
So, as her husband and her friend slept that Sunday morning, Erin put on her powder blue running shorts, two tops, her low-cut socks, and then laced up her new size 8 blue-and-white Saucony running shoes that carried her running chip. She loved those new shoes because they were lightweight and they made her feel like she was "flying." Her shoulder-length chestnut-colored hair was pulled back and kept in place with a black visor. She would be wearing a bib with "Erin … 876A."
"I feel really good about this number, it's my mom's birth month '8' and my brother's year of birth '76.' I like it," she wrote on her journal on Saturday before leaving for Dallas. She had just finished a 3-mile run in 22:14.
"It must be the pent up energy," she wrote of her time, encouraging her journal followers to check out the live time tracking of the Dallas race.
Now, at about 6:30 a.m. Sunday, she was on edge, ready to hit the streets of Dallas. "Hey, I'm about to catch the bus," she whispered into her husband's ear.
He gave her a big hug.
"Katie and I will meet you out at the race," he told her.
As the hotel room door closed, Jeff tried to be positive, knowing that Erin had had so much energy all week, even on the three-hour drive to Dallas. She had insisted that they meet up with some friends for dinner Saturday night. Jeff, also a runner, would have preferred a quiet evening and early to bed before the big race, but the five of them ended up at the Hoffbrau Steak House in the West End.
After dinner and back in the hotel room, Jeff tried to get Erin to relax, telling her she would do fine, but she kept tossing and turning. At some point, they both fell asleep. Now that the alarm had gone off and his wife was out the door, Jeff would sleep a bit longer before he and Katie would see Erin on the race course in East Dallas.
Erin headed to the ground floor exit of the Hyatt Regency to catch a shuttle to the American Airlines Center.
In another hotel in downtown Dallas, Marty Leos also was getting ready that Sunday morning. He and his wife, Jeane, had stayed downtown on Saturday night after her company Christmas party there. They had been married at St. Pius X Catholic Church in East Dallas and now with two small boys, they took the opportunity whenever they could to spend time together. On this weekend, Marty thought it would be easier to go to the party, get some sleep at the hotel and then head for the race, instead of driving back and forth from their home in Mesquite.
Marty, a Dallas Fire & Rescue firefighter, paramedic and trainer, would be running his seventh marathon. On their way to the American Airlines Center, he stopped at a Starbucks before his wife dropped him off at the start of the race. They chatted for a few minutes. This year, she would not meet him on the course, but would wait for him back at the finish line.
"How long do you think it's going to take for you to finish?" Jeane asked him.
"If everything is right, I think I'll do it in three hours and 40 minutes," he told her. "No more than three hours and 45 minutes."
Wind and gusts
More than 15,000 runners had signed up to take part in the 2008 White Rock Marathon. Some would run the entire race; others would run the half-marathon; still others would run relays or other events.
The wind would whip runners that day with those 20 mph winds that Erin feared greeting runners almost from the start of the race.
Marty knew the layout of the course, having run it several times. He didn't have a goal to qualify for Boston. All he wanted to do was to beat his earlier times.
The marathon would allow him time to think about his life, about projects at home, about his wife and their two young boys, Alec, 8, and Christian, 6, and their school, and his 20-year-old daughter Victoria, who was away at college. What he didn't want to do was think about work. He had been a firefighter since 1996, earning commendations and promotions along the way.
When he was assigned to stations, the job was stressful at times; boring at others. When some people called 911 for emergencies, many times the calls were anything but that.
A lieutenant now, he was nearing the end of a three-year posting at the Dallas Fire & Rescue training facility on Dolphin Road in East Dallas. It was the closest he had had to a 9-to-5 job in all his years in the department. He would have to determine in a few months what his next assignment would be. He didn't know if station life would again be in the picture: a rotating schedule with 24-hour assignments, with a combination of stressful and boring days, but then lots of time off in between.
The stress of going on those emergency runs at work had hardened him. Fights, stabbings, shootings, car wrecks. He was almost mechanical in his approach to them, he would say, treating each case as a unit; case open, case closed. If someone didn't make it, he would often say, "Wow, too bad." Names? They were easy to forget. The separation and the detachment allowed him to put everything behind him when it was time for him to go home.
The starting gun went off at approximately 8 a.m. with Erin and Marty in the crush of runners eventually crossing the starting line.
They would follow the 26.2-mile course that would take them north of downtown, then along the Katy Trail, across the McCommas Bridge over Central Expressway, through East Dallas, around White Rock Lake before heading west through Lakewood, along Swiss Avenue near the Baylor hospital district, past the Arts District and then back to the finish line at American Airlines Center.
Marty was ready for this race and was confident he would make 3:40; as he crossed the starting line, he felt good, but he dreaded mile marker 16 at the southeast bend of White Rock Lake. For him, that always was the start of his "Wall."
Family time
Sunday was going to be another family day for Mary Edlund and her husband, Carl. Their daughter, Chrissy, following in her mother's footsteps, would be running "The Rock," as the Dallas marathon also was known. They would find Chrissy on the course in East Dallas, then the entire family — children, spouses and grandchildren — would head to the Edlunds' townhome near Baylor Medical Center. Near Swiss Avenue, they would wait for Chrissy to come by sometime before noon and they would cheer her on, then rush to the finish line, meet her and they all would return to the home for lunch.
Running was in Mary's blood. She had run 15 marathons — including Dallas, San Antonio, Fort Worth — but injuries and knee problems had kept her sidelined the past few years. Her daughters, inspired by her love for running, also began taking part in long-distance runs.
For Mary, running, particularly in marathons, allowed her time with good friends to discuss many topics. Many times the conversations revolved around spirituality, a theme always close to Mary's heart.
As the chancellor for the Roman Catholic Diocese of Dallas, Mary was surrounded by religion and spirituality on a daily basis, working with Bishop Kevin J. Farrell and others in his senior staff, including priests, nuns and lay employees, in the administration of the Catholic Church in Dallas. On this Sunday morning, however, work would be in the background, as she prepared for family time.
On pace
Most marathoners keep their own unofficial time. Marking their splits on their watches as they hit the mile markers. In Austin, Erin's Lahr's three-mile split was 27:20:00. Now, here in Dallas, even with the wind, Erin was making good time. She ran the first mile at 7:56:51; mile 2 at 7:58:26. Her three-mile split put her at 23:23:26.
By this time, back at the hotel, her husband, Jeff, and their friend Katie, had gotten up and had gotten a quick breakfast at the hotel. Jeff had mapped out the race, using the Austin splits as a guide to see where they would find Erin.
Jeff — Katie and other friends would say later — was totally devoted to Erin. He himself would say that he would always defer to Erin.
They first met in September 2003 in Austin at a mixer for some Louisiana State University alumni, which they both were. They both were at LSU at the same time, but had never met. Now, they kept bumping into each other at events in Austin in the fall of 2203. In early 2004, Jeff finally asked her for a date.
"It was Valentine's Day," he recalled. "No pressure, right?"
He was drawn to her by her smile, her jokes, and her wit. He was impressed that she was an engineer. He also had an engineering degree from LSU, but he was taking his career on a different course. They shared a hard work ethic, and love of friends. Jeff was constantly amazed at how easily Erin made friends and how comfortable they felt around her. Soon, each others friends became their mutual friends.
By the summer of 2005, Jeff knew that he wanted to spend the rest of his life with Erin. Erin's parents — Bill and Karen Krielow — had divorced years earlier. Erin was close to her mom and Jeff had met her and she seemed to approve of him. So, he cooked up a plan to surprise Erin with a trip to New York in the late fall. He enlisted his mother and aunt's help in helping him book rooms, restaurants and shows in New York City in November.
At the River Café, he pulled out a ring and asked her to be his wife. She cried, he remembered, and immediately said, "OK, but have you asked my father?"
In all of the planning for that big moment, Jeff, the organized one, had forgotten about tradition.
"Erin was an engineer. She was a runner and a tri-athlete. She was in a very, very competitive world where men tend to rule and she was a fighter and kept up with them," Jeff would say later. "But, deep down, she was also a traditionalist. Her Catholic faith was very important to her. Her father's approval before she got married was important to her."
Within a few weeks of returning home, Jeff called her father, who gave the green light.
They planned the wedding after Jeff had finished his MBA at the University of Texas.
On April 14, 2007, after preparing at St. Theresa Catholic Church in north Austin, they were married in an afternoon ceremony at Christ the King Catholic Church, located on the campus of LSU. The bridesmaids wore green, Erin's favorite color.
"It was a great party with lots of family and friends," Jeff would recall. "It was one of the happiest days of my life."
They were even more inseparable. They traveled to China, to Europe. They constantly got together with friends or at each other's homes. Erin became a good cook, finessing the quick Rachel Ray meals, and then got into Mediterranean.
Jeff and Erin frequently ran together and with friends in different parts of Austin, particularly around Lady Bird Lake.
Then Erin got into a competitive fitness mode, running short distances, then longer ones. A woman at a running store offered to help train Erin for the Austin marathon and Erin took her up on it.
"Everything that Erin did she wanted to give it her all," Jeff would recall. "Now, she found out that she liked running and that she was pretty good at it."
So, now 18 months after a storybook wedding, they were in Dallas. Jeff also had planned to run the marathon with Erin, but he had injured his knee months earlier and decided to wait.
Now, he and Katie Marx were on the streets of East Dallas, trying to find White Rock Lake to catch up with Erin.