I hope the Race gods are listening
Erin Ezell Krielow Lahr
• THE ERIN LAHR STORY PART 2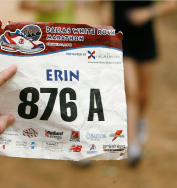 Lafayette, La.
A little after 10 a.m., Karen Krielow already was at St. Pius X Catholic Church in Lafayette, La. She was a member of the adult choir there, and was putting on her green robe to match that of the 40 other members.
She was anxious on this day. She knew that her only daughter, Erin, would be running the marathon in Dallas. On Sunday afternoons, dutifully, they talked for a long time over the telephone. She was anxious about that phone call.
She and Erin were close. After her divorce, Erin and Karen, a school teacher, moved to Lafayette. Erin's older brother, Mitchell, went to live with his father.
As she grew, Erin and Karen became very close. Erin loved sports, horseback riding, fishing, but she also found that she liked playing the clarinet and got good at it. She was involved in various clubs in high school.
She overcame her problems with math and enrolled in the engineering program at LSU, where she also played in the Tiger Band for two years. She earned bachelor's and master's degrees in engineering and decided to move to Austin, where she found work with the PBS&J Engineering firm.
Karen Krielow had met Jeff early in his relationship with Erin and she immediately took a liking to him.
"But Erin never abandoned me," she would say. "She and I were still very close."
Now, as the St. Pius choir was rehearsing for the 11 a.m. Mass, they went through the song Magnificat, known as the song of Mary, tears welled in Karen's eyes. She remembered that at the Austin Marathon, this was the time when Erin told her she had hit her "wall" and how brutal it was. If not now, then soon, Erin would be hitting her wall in Dallas.
Dallas
Back in Dallas, Mary Edlund and her family found Chrissy on the course and were heading back to the Edlund home near Baylor Medical Center.
Olivia Zokai, a physical therapist who works weekdays at the Baylor Institute for Rehabilitation, left her apartment near Uptown and headed for the Tom Landry Fitness Center on the Baylor University Medical Center campus off of Washington Avenue.
Farther east, Marty Leos was working his way through his wall, his right foot hurting him, but he continued to push forward.
Erin Lahr was averaging about 8 minutes, 20 seconds on her run through the eastern part of the marathon course.
When Jeff and Katie caught up to her at mile 18 near the Spillway at White Rock Lake near Garland Road and Winstead, Erin looked very good.
"She sees us and she waves," Jeff would recall. "I tell her, 'You're ahead of your pace.' She was real excited."
Jeff and Katie got back in their car and found their way to Swiss Avenue, just past Munger Avenue. About 35 minutes later, past mile marker 22, they see Erin.
"The day before she told me, 'When you see me, take some gel packs (energy packs).' I had them; I raised them up, but she didn't want them. She was smiling a little, but not as enthusiastically as at 18.
"I told her, 'Babe, you're doing great. You're still ahead of your pace.'
"She said, 'Yeah, I know!'" Jeff would recall. "She didn't look too happy. She just looked tired and looked like she was saying that she just wanted to get this over with."
With four miles to go to the finish line, Jeff and Katie hurriedly got back in their car and headed toward the American Airlines Center.
Convergence
Mary Edlund and her family were standing along Swiss Avenue when Mary decided to move to the corner near Washington Avenue.
By this time, Olivia Zokai was upset. She knew that the Tom Landry Fitness Center didn't open until noon on Sundays, but here she was anyway. Now she was trying to find a way north out of the marathon mess that had engulfed traffic near Baylor. She found herself back at the corner of Swiss and Washington avenues, the fourth car back, as a policeman was directing traffic.
On the nearly three-mile stretch of Swiss Avenue, in the idyllic historic district of hundred-year-old oak trees and stately mansions, many runners hit their wall. It's a place where many of them start to walk to the finish line or peel off and go home with family members waiting along that stretch.
To see a few runners on the sidewalks along Swiss Avenue is all too familiar territory. Marty Leos had seen them before in his other marathons, so he stayed focused and kept moving west. He was still making good time.
It had taken Erin Krielow Lahr 9:17:34 to go from mile 22 to mile 23.
Halfway to mile 24, at Washington and Swiss, all of their lives collided. It was about 11:30 a.m.
'Good Samaritans'
Mary Edlund: "As she came up to the corner, our eyes caught each other. And then her legs collapsed. I ran over to her. There was another person on the other side and we caught her before she hit the ground. We moved her out of the intersection. There was a policeman there directing traffic. We sat her down. We were talking to her. I was holding her, stroking her arm. She didn't say a word. Then we laid her down. By now several people were there. I kept holding her and calling her name, 'Erin. Erin.'
The other person who caught Erin was Rod Jackson, an occupational therapist who also works on the Baylor campus. A marathoner himself, he was sitting out of the race and had gone to Washington and Swiss to cheer on a friend. He was desperately trying to find a pulse.
Olivia Zokai: "I was sitting there in traffic, frustrated. What am I doing here? Then I saw her come across the intersection and she dropped to her knees. I have a Baylor badge that gets me access to the parking area near that corner so I pull into it. I immediately go over there. I remember looking at her and thinking, 'She almost looks like me, so young.' We knew her name was Erin."
Marty Leos: "So, on Swiss Avenue you see people down all the time. I was keeping to myself, looking down, when I saw people at the corner with a runner. I couldn't see much, but as I got closer I saw that this was different. They were looking around and it looked like they were looking for help. I thought about just going by and finishing the race, but I stopped."
The policeman had already called for an ambulance. Fire Station 3 at Malcolm X Boulevard is less than a mile away. The Baylor emergency room is even closer.
As Marty Leos reached Erin, he began the compressions on Erin's chest, Rod Jackson started mouth-to-mouth. Mary Edlund continued talking to Erin.
"Erin, Erin, hang on, hang on, the ambulance is coming."
They looked for a pulse.
Olivia Zokai: "I said, 'Do you need me to switch or do anything?' But they kept going. They knew what they were doing. I wanted to do anything to save her. I knew where the emergency room was. I couldn't hear the ambulance or hear anything in the distance. I said, 'I have my car here. Why don't we just put her in and take her,' but they said, 'No.' I knew what we needed was an AED (automated external defibrillator). I knew where the crash cart was on the second floor of our building."
Before Olivia could get the crash cart, the ambulance arrived. Marty Leos knew the paramedics and gave them an update. They put Erin on a stretcher and started an IV.
By this time, Mary Edlund's daughter Chrissy was coming to the intersection and Mary ran with her for a bit.
Marty Leos, still bewildered at what had taken place in which his professional instinct took over, started running again. Now, he had no pain in his foot as he headed for the finish line. He would finish in a little over 3 hours and 55 minutes.
Olivia and Rod went to the emergency room, hoping to be there when Erin's family or friends showed up.
'Now what?'
At the finish line at American Americans Center, meanwhile, Jeff Lahr and Katie Marx, now joined by the two friends from dinner the previous evening, were anxious. Erin had been on pace to easily make 3:40, but now the 3:35 mark had passed and no Erin. 3:40. 3:50. 3:55, nothing. Four hours.
"Then, an hour later, we start to get frustrated," Jeff said. "There were tons of people there. Erin didn't have a cell phone and may have caught a ride back to the hotel to change and would meet us later or something."
Katie also was frantic and frustrated looking for Erin.
Then Jeff, with Katie at his side, got a phone call from a doctor at Baylor.
"Is this Jeff?"
"Yes."
"Are you related to Erin?"
"Yes."
"Well, Erin is at the hospital."
"A sharp, cold shock went through my body," Jeff said.
They wanted Jeff to come to the hospital, but after telling doctors that they did not know their way around Dallas, he and Katie were told to find the triage center at the AAC.
Two doctors show up and one talked to Jeff.
"We are in touch with the doctors at Baylor. They can either tell you there or we can tell you here."
"OK."
They told him that Erin had collapsed on the course.
"We have word that Erin has died. The electrical signals to the heart went haywire," Jeff remembers the doctor telling him.
"People were on site to give her CPR. They had been trained to do CPR. When the ambulance got there, they continued CPR. When she got to Baylor her heart was barely moving."
Katie was in denial. Jeff, with his pragmatic outlook that everything had to have order, could only say, "OK, what now?"
As the doctors found nurses to take them to Baylor, Jeff was still in shock. As they were driving toward Baylor, one of the nurses was talking to a colleague at Baylor.
"I think you'd better have a chaplain ready," she said from the front seat.
At that point, Jeff felt as if he was going to suffocate.
"I've got to get out! Stop the car! Stop the car!"
Reality was slowing starting to sink in. His beautiful wife. What happened to her? What was she going through? Did he and Katie miss something on the course? Did Erin suffer at the end? Who was with her? What now? What about their plans for a home, for children? How could this happen? Why her?
He sat on the stoop of a townhome near Baylor for a few minutes; composing himself, they continued to the hospital.
After he identified Erin, he had to make phone calls. First to his mother, and then he enlisted Katie, whose mother, Patty lived in Lafayette, so she could go to Erin's mother's house. He did not want Karen Krielow alone when he delivered the news.
When Patty Marx pulled up to Karen Krielow's house, Jeff was on the other line. When he delivered the news all she could say was, "My beautiful daughter! My beautiful daughter!"
Erin's brother Mitchell, his wife, Stephanie and son, Lucas, soon arrived and other family and friends began gathering at the home.
Tears for Erin
Back at her apartment, Olivia Zokai was in tears. She had gone to the hospital, but then went home after she had heard that Erin had died. She felt bad for the young woman's family.
Later that afternoon as she turned on her computer to search for any news story about the tragedy, she was not prepared for what she discovered next.
"There is no way that this is the girl. I went to high school with her. On her Top 10 friends, I was friends with all 10 of them," Olivia said.
"Erin Krielow and I went to the same high school — Comeaux — in Lafayette, and to LSU. She was a year ahead of me, but I knew her.
"Katie Marx and I were ambassadors together at LSU. That's when the emotional shock really hit me. I started making phone calls."
The following day, Mary Edlund, on her way to the office from a meeting, got a phone call from her daughter-in-law. Her son Carl Jr., she was told, had bought a bouquet of flowers and placed them on the site where Erin had died.
"I just starting crying right there," Mary said. She knew that she had to reach out to the young woman's mother, which she did.
"I told Karen that I held Erin. That she wasn't responding, but that I was calling her name," she said. "I told her Erin's death was quick and peaceful and that she did not suffer. I told her that she died in the arms of a mother, a runner."
Jeff Lahr and Karen Krielow made the decision for Erin's funeral Mass to be in Lafayette, at St. Pius X. Still in shock and looking for medical answers, the family was now starting to get a few answers to their questions about how Erin died.
Marty Leos called Karen Krielow and told her that medically everyone did all that they could, and that criticism of police and emergency personnel's response were not warranted.
Mary Edlund went to the funeral in Lafayette, feeling compelled that the Diocese of Dallas should be represented. Marty Leos gave her his marathon bib, No. 1113, to take with her to the service.
"I wanted to be there, but I couldn't," he said. "It didn't necessarily represent me, but all of the runners in the marathon and all of the people in Dallas."
Katie Marx — with help from some of her friends, who also happened to be Olivia Zokai's friends — wrote and delivered the eulogy. She talked about Jeff and Erin's love and devotion for each other. She talked about her drive and determination, but mostly she talked about what motivated her best friend.
"By all accounts, thankfully Erin was surrounded in her death by strangers who showed extraordinary kindness," she said. "I would like to believe that it is because in Erin's life, she showed everyone she knew compassion, generosity, and sincerity. On Sunday, the world got to pay her back."
Mary Edlund told those gathered the same thing that she told Karen Krielow. That Erin did not suffer. That she was surrounded by people who comforted her. That Erin died peacefully. That she died in the arms of a mother and a runner.
"I believe that brought them comfort," Mary said. "I was not only reaching out to the family, but we were reaching out as Catholics from the Diocese of Dallas to the church in Lafayette."
In her casket, Erin's husband and mother and a few others placed letters. Her favorite wallet went with her, as did Marty Leos' race bib. No. 1113.
She was buried in a plot that belongs to Karen's family in Gueydan, La.